the "Flying Guitar" Arsenal!
Brother Andrew's "Flying Guitars"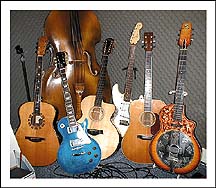 Guitars used on this CD.
1) Ervin Somogyi #96 Acoustic Steel String Used extensively
on this CD. The guitar soundhole rosette pattern is Ervin's art.
http://www.frets.com/NCAL/Somogyi/guitars.html
2) Martin D-35 (1975) My Father bought this for me on my 18 th birthday.
It is not for sale.
3) Taylor 12 string (Leo Kottke model) Pete sold it to me.
Hear track #4"Little Martha"
4) George's Folk Guitar (model?) ? George said he took the finish
of this guitar, it has a bright flamengo sound now. It has no case.
I liked the sound, it can be heard on tracks 2 & 11.
"Saverz "P" strings are best" says George.
5) the Epiphone Stand Up Bass Viola. Bought at the local pawn shop
when I was into the bluegrass scene. It is hard to mic., but it makes good furniture.
Classic leaning against the pine tree at camp. As much fun to play as it is to stare at.
John Pearse Phospher Bronze Strings are mounted on the Somogyi and Martin.
I'm not getting paid to mention this, I just think they are the longest lasting,
consistent, bright sounding strings that I have ever found.
On Classical Guitars definitly use Saverz "P" (all wound strings)
More bite, better feel, more sound the girls dig em'
My Somogyi guitar is equipped with a L.R.Bagg's MicroDuet Sound
amplifing system, in which was used entirely on all the
recording sessions using this guitar.
Ed Sandor recorded onto good ole analog 1" tape.
Bro A's Studio uses an Alessis ADAT system
& good ole 16 channel Mackie board. So it's : AAD & DAD
Mixed by Bro Andrew and Shawn Hafley.
Sound Engineers : Bro. Andrew & Ed Sandor
Mastered by Emmet Sargeant, Beagle Studios Santa Barbara, CA
Art & Graphics by Bro. Andrew
Produced by Bro. Andrew · Recorded at Sandor
Sound Studio, San Luis Obispo spring of 1995
and at Bro. A's Audio Lab, Cayucos 1996-98
May the surrounding sounds of a more perfect day
be forever remembered as the sound tracks of our lives go flying by.

If you need to contact Andrew, you must put "Hey Bro Andrew"
in the subject line of your e-mail. Since my site has been up since 1999,
I'm on the Spammers list. We get 300-500 junk e-mails per day.
The Internet used to be a good thing, great for research,
bad for receiving crap I did not order.
©1999 Productions. All rights reserved.
Thanks for Visiting broandrew.com
Visit the Ho Down at the Country Coast
Last update : Dec. 2003